About Aloka Foundation
Aloka Foundation is a non-profit organisation incorporated in 2002 under the Companies Act, 1965 to establish and operate retreat centres and carry out activities to promote educational, humanitarian, and spiritual activities for the well-being and happiness of all Malaysians regardless of ethnicity, creed, and belief.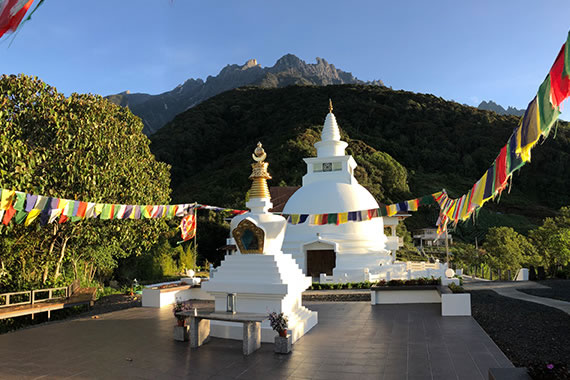 Founded by Bhante Mahinda, Aloka Foundation's initial project was the establishment of Alokarama, an eco-holistic retreat centre on an 8.9-hectare of orchard located near Asahan, in the district of Tampin in Negeri Sembilan, bordering the states of Johor and Melaka. Since its completion in 2006, Alokarama has been the host venue for many healthy mind and body retreats and workshops.
Mitraville is another eco-holistic health and spiritual sanctuary on a 5.2-hectare piece of land at Mersilau, near Kundasang, Sabah. Located at almost 1,900 metres above sea level, just at about the half-way mark of Mount Kinabalu, one of the tallest mountains in Southeast Asia and with accompanying natural attributes, Mitraville is an ideal retreat centre for the cultivation of the mind.
The Aloka Stupa at Mitraville is a monument of peace, anchoring spiritual energies, and providing inspiration and blessings to all, drawing people from near and far to meditate, to cultivate loving-kindness and compassion, and to work for the welfare and happiness of the many.
Our Activities
Over the years, Aloka Foundation has organised and facilitated numerous activities and projects that have benefited many.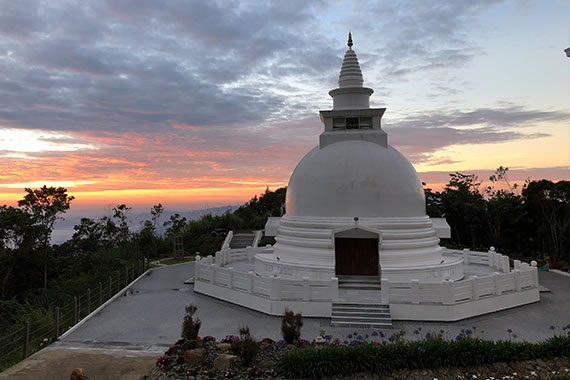 Aloka Foundation has initiated working groups such as Open Arms to extend hospitality services to visitors and friends, and Good Heart to provide compassionate care and spiritual support, particularly to the elders and those in need.
To promote the planting of herbs and to generate greater awareness on their medicinal values, Aloka Foundation started the Green Thumb working group which also cultivated vegetables and crops for healthy diets and nourishments.
In preparing the community physically, psychologically, and spiritually in facing and managing crises, Aloka Foundation formed the Aloka Emergency Readiness Team (ALERT). Medical camps were also conducted between 2010 and 2011 to benefit residents in the interiors of Sabah.
In addition, Aloka Foundation initiated efforts to provide holistic education in developing peace loving, well-rounded, and confident individuals.
These working groups, projects, and activities have evolved into various forms and organisations over the years.
Good Heart
to provide compassionate care and spiritual support, particularly to the elders and those in need.
Green Thumb
To promote the planting of herbs and to generate greater awareness on their medicinal values
Open Arms
to extend hospitality services to visitors and friends
ALERT
Aloka Emergency Readiness Team in preparing the community physically, psychologically, and spiritually in facing and managing crises
Current Projects
Currently, Aloka Foundation co-organises or lends its support to the following projects: